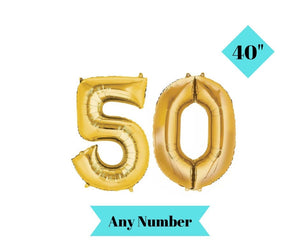 Celebrate in style with the number 50 balloon! Our 50th birthday balloons have you covered. Whether you're feeling fifty shades of fabulous or simply looking to add a dash of wow to your big 50, we're here you make it epic! 
• Balloons are 40" (Approximately 35" inflated)
• Balloons come flat and deflated
• Can fill balloons with air or helium
• Each order comes with a straw for inflating the balloons with air and string for hanging.